So excited that it's finally Friday! Even with Monday off, it's been an exhausting week. I can't wait to spend time with my sweet little fam and recharge this weekend.
Linking up with
Darci
and friends for another 5 on Friday. :)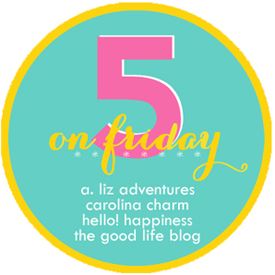 (ONE) We are going hiking this weekend and I am excited to go exploring again. We are taking Emerie along (hopefully she cooperates). Hubs will be hiking with her in the backpack carrier. She is not a fan of baby wearing so we will see. It won't be a long or hard hike. I'd hate to be stranded six miles into the woods with a screaming toddler. Haha! Pictures to come!
(TWO) Emerie is so much fun right now. I'm sure I've said that in like every post but oh my word, I love this age. She is learning so much so quickly and she is so funny! She makes me laugh constantly and I just want to kiss her little face right off.
(THREE) I am loving the fall recipes on Pinterest (because I love all things cinnamon, apple, and pumpkin). I haven't tried any of them yet but hopefully I will in the next few weeks. I would love to make donuts but I don't have a donut pan... Is it worth investing in? Who am I kidding, we're talking about donuts. Of course it is!
(FOUR) On a completely opposite note, I am jealous of all you people out there who are living the Paleo lifestyle right now. I don't know how you do it! I have been thinking about my eating habits and would love to attempt clean eating. Though it seems like a lot of work and huge lifestyle change that I don't see myself being able to commit it. No sugar? Coffee creamer? Ice cream? Pasta??? How would I live? :)
(FIVE) I'm in the process of making a photo book on Shutterfly. The code that I have for a free book says 20 pages. I attempted to put together a scrapbook of Em's first year.... I got to 7 months old and was at 31 pages. Eeek. I've got a lot of work to do to cut it back and get 5 more months in! :)
Have a great weekend friends!