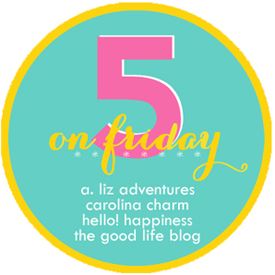 Here's a little of what we've been up to lately! I can't believe we only have on Friday left before we head back to work!
(One) We spent yesterday evening at my parents' new house. Em hung out with my mom and dad while hubs and I took the canoe out on the lake for a little fishing. It was so much fun. I used to fish allllll the time when hubs and I first started dating and even through the beginning of our marriage. The last few years I haven't fished much and I forgot how much I love it!
(Two) I've spent some time working in my classroom this week and it's finally starting to resemble a classroom. I switched rooms this year so it's been a little more work unpacking and getting things ready. Also, this room has two chalkboards, yes, you read that right...
chalkboards
. I need to find some Pinterest ideas to revamp those things! (Don't worry, even though some of my classroom is still from the dark ages, I do have a document cam, computer, and SmartBoard.) :)
(Three) Can I just say that I am going to be so sad to leave my sweet little Em everyday? I just told hubs this morning that I'm going to miss bringing her to our bed every morning and listening to her talk and jabber and give us kisses. Back to rushing around like mad and running out the door every morning! One week of summer left. :(
(Four) I enjoyed reading these two blog posts... you've probably seen them... The first one takes me back to my church youth group days. Sigh.
My husband is not my soul mate.
and
When you think your love story is boring.
(Five) Happy World Breastfeeding week! I feel blessed to be able to nurse our sweet girl. 14 months and still going!
Speaking of our sweet girl, how cute is this? Kissing the "baby" in the mirror. Happy Friday!