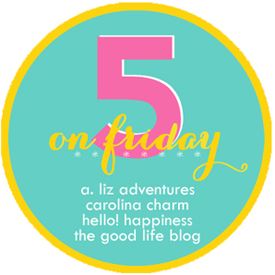 (One) I got my hair cut yesterday and added some bangs. They looked really cute after being professionally styled... It took me a little while to get them styled the right way and I'm not quite used to them yet but I think I like them. :)
(Two) We are hoping to have a baby pool date next week. I have lots of friends with kids around Emerie's age and we invited them all over to swim at our house (I need to get the house somewhat clean this weekend, Hurricane Emerie rolls through on a daily basis and things look disastrous most of the time)!
(Three) I am trying to decide between the Coastal 5K (Myrtle Beach Mini Marathon) and the Buccaneer 5K (OBX Marathon Weekend). The Coastal 5K is towards the end of October and the OBX race is the beginning of November. I think it will be warmer in SC in October than it would be in NC in November. Have you done either of these races? Wonder which course is most scenic!?
(Four) Is this not the cutest?
(Five) This summer I've been seriously slacking in the book department. I love to read but I just haven't had anything suck me in this summer. I'm reading Happiness Key on my Kindle right now (checked out from the library). I will be surprised if I finish it before my library loan runs out! What are you reading this summer? I would love suggestions!!
Link up with
Darci
to join in!
Have a great weekend!