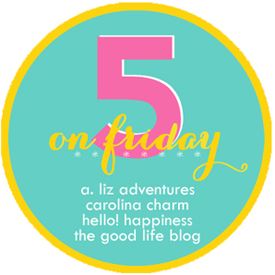 One. -how cute is this? Emerie loves our golden retriever and tries to sit on her "lap" all the time!
Two. -we are planning a short vacation for the end of this month... Deciding between Sunset Beach, OBX, Va Beach, and Pigeon Forge/Gatlinburg. Suggestions?
Four. -we are going to a connections lunch at church on Sunday... I'm looking forward to getting more involved at our new church... I think it's important for us to be involved and hope Emerie will get to be part of lots of fun things in the future like VBS, Sunday School, and youth group.
Five. -toffee crunch ice cream (Great Value brand) is ah-mazing. I may or may not have eaten two bowls a day for the past month! :)
Link up with
Darci
to join in!
Happy weekend!