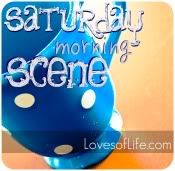 Visit
Loves of Life
if you want to link up!
My camera battery died so I can't take a picture of what my Saturday morning looks like... So I'll just tell you. =) I am currently enjoying my second cup of coffee and catching up on all of your wonderful blogs. Later I will be heading to my new classroom to start unpacking everything! I have taught 2nd grade for the past two years and this year I get to teach Kindergarten! I am soooo excited! I know a lot of people think I'm crazy but I love the little ones. They make so much progress their first year of school and I can't wait to be their first teacher (well, some of them, some will have went to PreK)! As I sit here on this lovely Saturday morning I am also daydreaming about the lake where hubs proposed. We have a lot of memories at that lake and we took a quick fishing trip there this past week. It was the most beautiful afternoon! The air was cool with zero humidity, and the sun was bright in a clear blue sky... we watched it set behind the mountains... ahhhh. I can never get enough of that place. So I leave you with these pictures:
Even Mason enjoys the lake as much as we do! =) Have a great weekend friends!